How to Set Up Your Bike for Bikepacking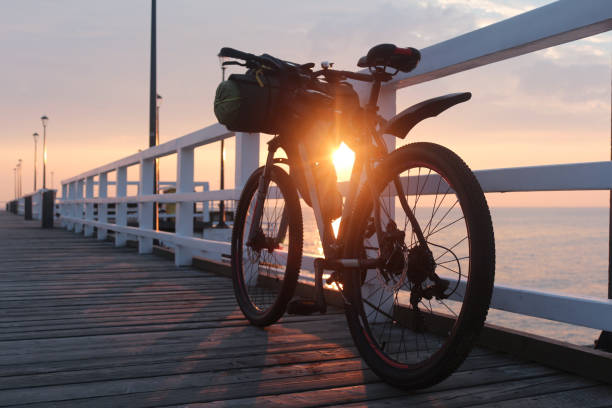 How to Set Up Your Bike for Bikepacking
You're not the guided-tour type who thrives on a punctilious schedule. You prefer marching to the beat of your own unconventional rhythm, spending time off the beaten path in the great outdoors. 
Sound familiar? Then you need to try bikepacking.
Bikepacking offers all-terrain cycling adventures on forgotten roads to places less traveled. And you only carry what's absolutely necessary. 
Whether you're a veteran or a first-time bikepacker, before you take your journey, it's necessary to give some thought to the type of trip you're taking.
The style of your bikepacking tour will affect the amount of gear you take, and the way that you pack.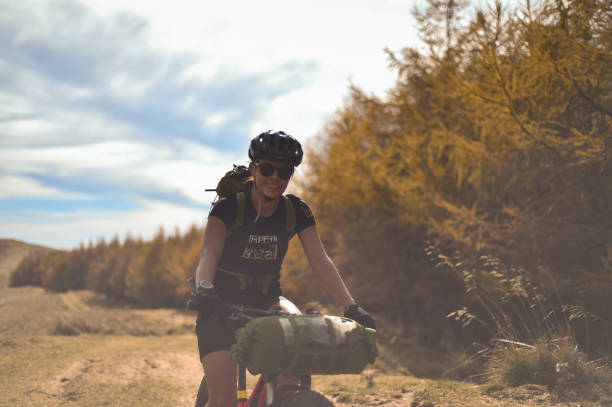 There are a few different types of tours:
Credit-card touring means you're not camping. Instead, you'll buy meals from the place you spend the night, such as a hotel, motel or BnB. For this type of bikepacking, you'll only need clothes, toiletries, snacks, and a few extras that should fit into two panniers.

Vehicle-supported touring involves a support vehicle loaded with overnight gear while you carry only what you need for a day of cycling. You will only need one or two front or rear panniers, or even smaller options such as a handlebar bag or saddlebag.

If you embark on an organized tour, there will be support provided for your food, clothing, and gear. In this case, you only have to carry what you need for the day.

If you choose a self-supporting tour, you'll camp and cook your own food and you'll need basics such as clothing, toiletries, a tent, sleeping bag and sleeping pad, a stove, fuel and cookware. To carry all this gear, bikepackers usually use four panniers—two in the front and two at the back—or they use a trailer, with or without panniers.
Proper Pannier Packing
Riding a bike loaded with gear is going to feel different from one that isn't. But the secret lies in the way you pack. 
Your gear should be accessible without affecting the balance, stability, and performance of your bike. 
Pannier bags are the go-to storage containers for bikepackers. They offer spacious storage, clip onto the front and rear racks easily, and they can be easily removed and taken with you on a stop-off. It's best to purchase panniers that are waterproof. But if yours isn't, pack your belongings with waterproof bags or cover the panniers with rain covers.
For a self-supported tour, your best choice is to take four panniers—two in the front and two at the back. This ensures that the load on your bike is distributed equally from front to back and side to side, eliminating wobbliness. 
One way of achieving this is putting aside your tent and sleeping bag and packing about 60% of your gear in the two front panniers and 40% in the rear panniers. Then, when you pack your tent and sleeping bag on the rear rack, which is common practice, you will have an evenly distributed load.
If you're planning a solo bike tour, that's just a few days, you won't require a lot of gear. Two rear panniers may be all you need. If you find that not everything fits, you can strap items onto your rack—many riders strap their tent to the top of the rear rack—or you can take along additional bags such as a saddlebag, a handlebar bag or a top-tube bag. For longer journeys, you can add a front rack.
Rear panniers are well suited for items that you use less often because you usually have to stop your bike to access them. They are good for extra clothing, a stove, and cook set and extra food. Place the heaviest items at the bottom of the pannier for stability while cycling.
Front panniers are often smaller than rear ones and are usually used for extra supplies. Because they're easier to access, they're also perfect for items that you'll use regularly. Place your snacks and food for the day, first-aid kit, bike tools and rain gear in the front pannier. As with rear panniers, place the heaviest items at the bottom to maintain stability.
What To Pack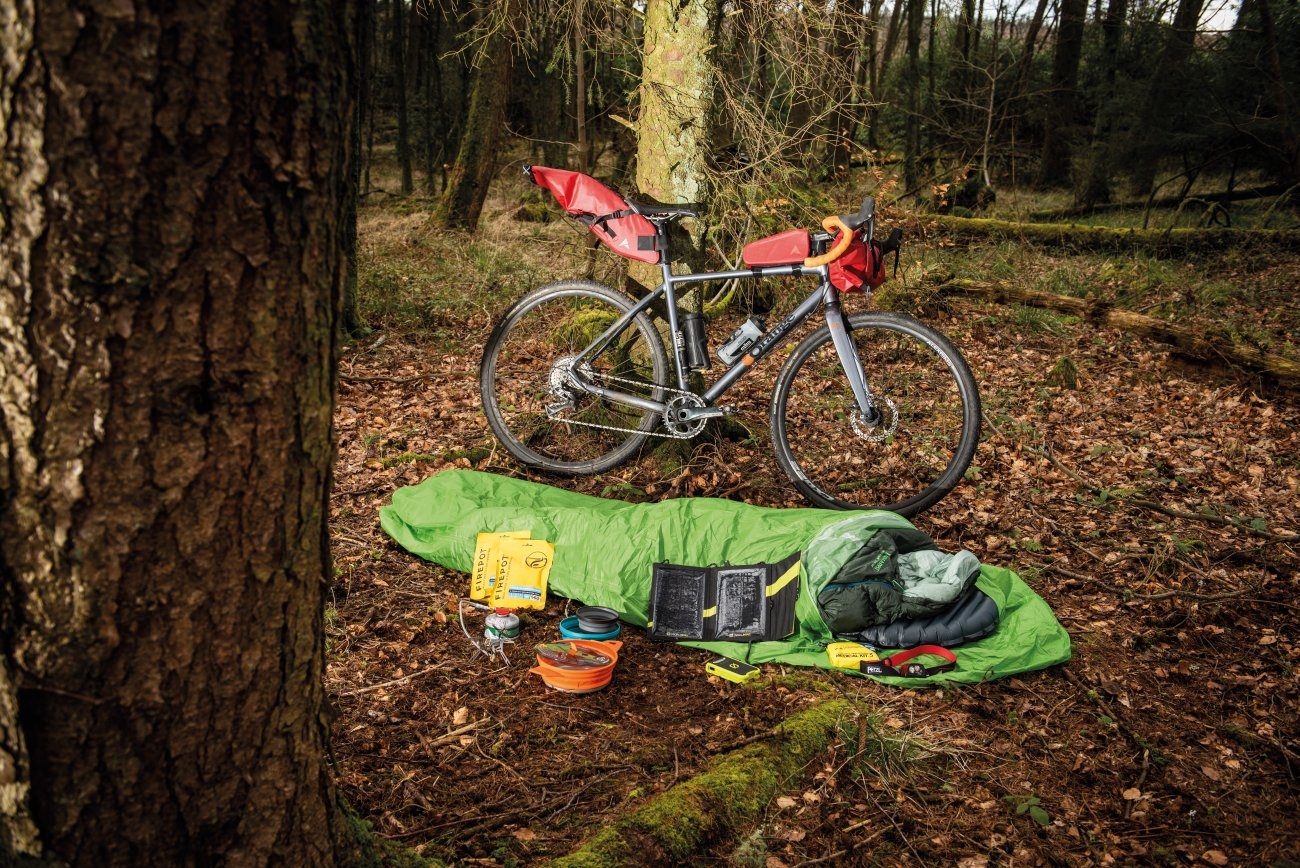 Bike gear 
Panniers (20- or 40-liter)
Frame bag

Handlebar bag

Trunk bag

Rain covers 

Daypack

Extra Water bottle mounts

Bicycle phone mount

PedalCell

Charging cables

Headlight

Flashing tail light

Reflectors

Bike Lock

Mirror

 

Spare tubes, a patch kit, pump, tire levers and a multi-tool
Shelter and Food
A sleeping bag and pad

A stove, fuel, lighter, mug, pot, and utensils

Water bottles 
Clothing and Toiletries
You'll want clothes for all types of weather. So, along with a swimming costume, shorts and a t-shirt, don't forget to include socks, gloves, warm underwear, a hat and a warm moisture-wicking long sleeve top. Remember to take sunscreen, lip balm, toothpaste and toothbrush and toilet paper.

First-aid supplies

are essential and include blister pads, pain-relief pills, antibacterial cream and bandages.
Miscellaneous Items 
Sunglasses

A headlamp

A camera
Less is More when Bikepacking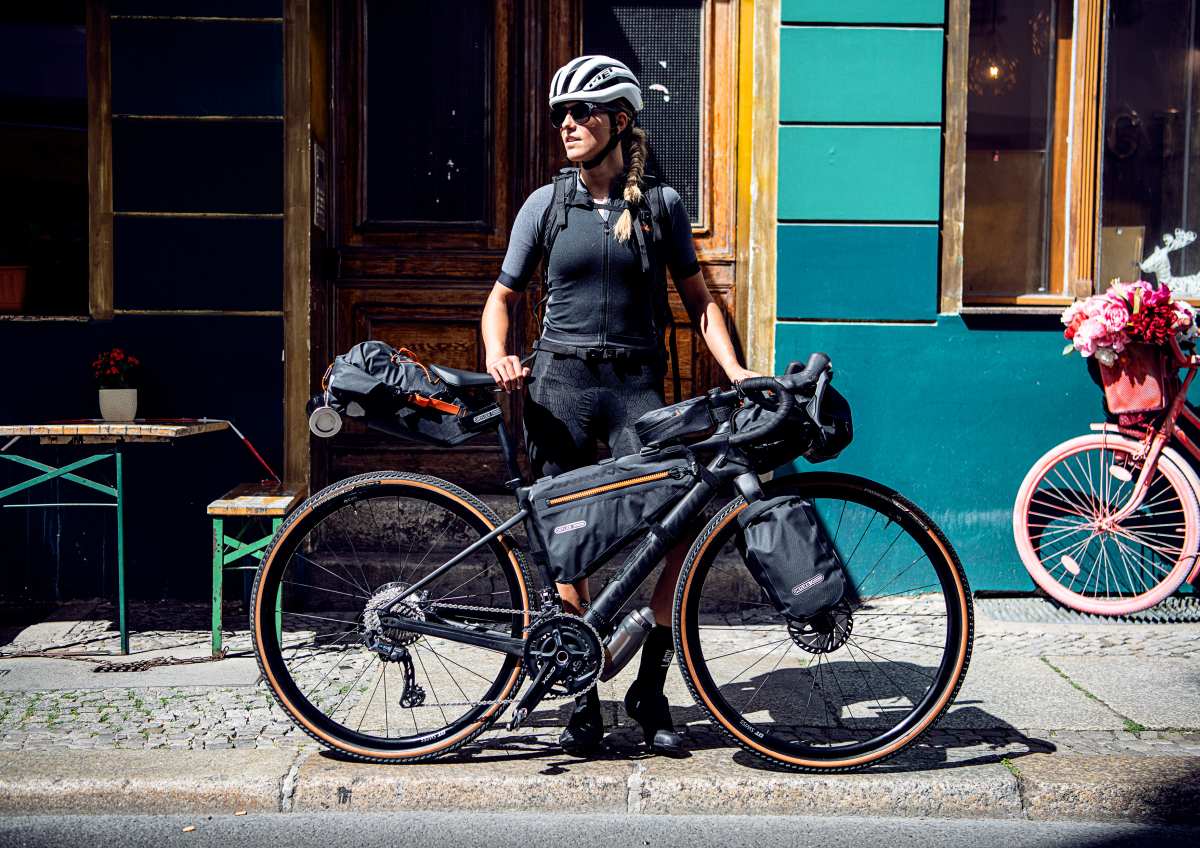 If you are new to bikepacking, you won't need as much as you think you do. So, try to avoid additional, unwieldy weight. Aim to carry about 50 pounds of gear (including the weight of the panniers and other carriers) and if you're taking a supported or shorter trip, you can carry much less than that. Bringing too much clothing is a common mistake, so keep it to a minimum. A good rule of thumb is to pack 4-days' worth of clothes. 
Bikepacking is one of the most affordable ways of
seeing a country
, putting your physical and mental abilities to the test, and increasing your fitness levels. If you're still working on your fitness levels, start with a shorter road trip. In time, you can extend your bikepacking tours and explore even further off the beaten track.
PedalCell: The Unrivaled Cyclist Power Solution
Learn More