Sinewave Revolution USB charger TLDR
The Sinewave Revolution is one of the standard "go-to" dynamo USB chargers thanks to its tried and tested design since its 2014 launch. Read more below to learn about what makes the Sinewave Revolution USB charger unique. 
Design
The Revolution is housed in a plastic housing that weighs just 37 grams. The product includes a 3 foot dynamo wire harness, however a longer length can be requested on the manufacturer's website. The Sinewave Revolution single USB port is type-A, meaning that it will work without any adapters for legacy USB devices. The USB port has gold-plated pins that resist corrosion better than most other USB ports, though riders should still be wary of using the Revolution in the wet (no USB port is waterproof, even with gold plated pins).
Performance
The Sinewave Revolution USB charger has a maximum output of 1A at 5V, or 5W, from its USB-A port. The charger was tested by the industry publication, Fahrrad Zukunft, a dynamo test 3rd party. The power test data with a SON 28 dynamo hub is below.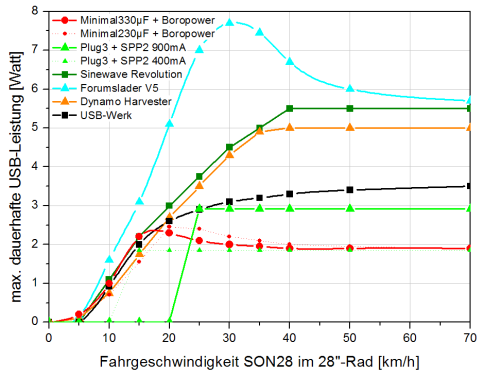 The Revolution is able to achieve its theoretical peak 5W output at 35 km/h. A bikepacker or bicycle tourer's should expect ~2W of output at a 15km/h pace. This charge output would be sufficient to keep a smartphone from draining its battery with light usage. Since the Sinewave does not have an internal cache, most riders recommend using a pass-through battery pack to increase the output stability at slower/changing speeds. However, cyclists who use a pass-through battery will loose 20-30% of the
Sinewave's
charge output due to efficiency losses.
Availability
The Sinewave Revolution USB charger is available at the manufacturer's website for $120. Sinewave also offers two additional products that build off the Revolution's technology:
- Reactor: A Revolution USB Charger that integrates in the stem for sleek mounting, $220
- Beacon: A Revolution USB Charger that is integrated in a 750 lumen bike light, $350
A Different Option?
PedalCell is the power source that keeps your USB devices charged while riding. PedalCell has 3X the power output of Sinewave's products with ½ the drag per watt of dynamo hubs. Moreover, PedalCell doesn't require a complicated wheel build, meaning it can be installed on nearly any bike in minutes. Spend less time waiting to charge-up and more time adventuring on your bike.
PedalCell: The Unrivaled Cyclist Power Solution
Learn More