PedalCell CadenceX's power and efficiency numbers are validated by 3rd party Fahrrad Zukunft in their test, "Socket on the go – part 8". Fahrrad Zukunft is a German-based publication that validates bicycle dynamo, generator, and charging solutions via vigorous power and efficiency testing. Cycling About has highlighted these results here as well.
PedalCell sent the Fahrrad Zukunft team an early 3-D printed prototype of CadenceX in January 2020. It is worth noting that the PedalCell team made revisions to CadenceX's hardware and electronics that have improved power output and efficiency since sending.
The publication plots CadenceX's USB power output against other bicycle power solutions. CadenceX's is the most powerful bicycle generator the publication has tested to-date.
"PedalCell CadenceX provides the highest power output we have measured at USB – at any riding speed."

-Andreas Oehler, Fahrrad Zukunft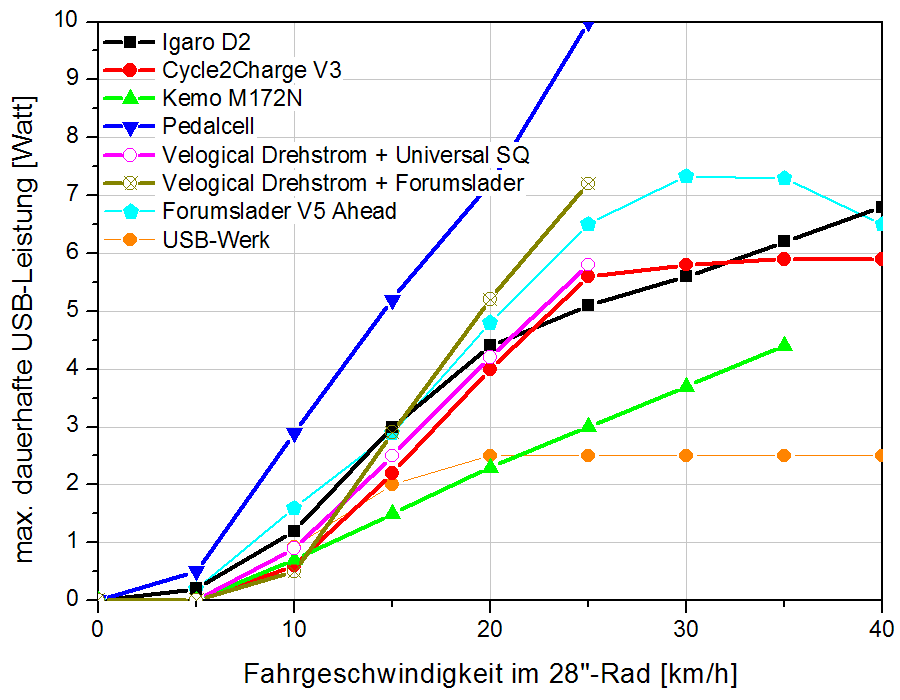 Fahrrad Zukunft also tested CadenceX's mechanical-to-electrical efficiency, measuring how effective a rider's raw energy is converted into USB power. CadenceX peaks at ~70% mechanical-to-USB output efficiency, making it one of the most efficient bicycle power sources to-date.
The Most Advanced Bicycle Power Source is Here
PedalCell's CadenceX allows you to stay safe and connected by keeping your essential devices powered. Its custom generator, patented electronics, and proprietary firmware work together to be the most powerful and efficient bicycle power source ever made. Better yet, it is dead simple to install and provides everything you need to start charging in minutes. Say goodbye to dead batteries forever with CadenceX.