International Shipping (outside the USA)
The majority of our customers reside outside the USA. We provide shipping options that make ordering PedalCell simple and painless for our international customers.
Customers in EU + UK:
PedalCell's Europe/UK warehouse provides fast, low-cost shipping to customers located in European Union and the United Kingdom. Product prices shown on our website include VAT for these locations. Orders shipping to these locations will show updated pricing at checkout with our EU/UK shipping rates. Note: We've seen Royal Mail experience intermittent delays and customs errors when shipping to UK customers as of late. Please fill out this form if you have a UK order and incorrectly receive additional customs charges from Royal Mail. PedalCell will take responsibility for errors made by UK customs.
Customers in all other countries:
PedalCell can automatically calculate the applicable duties, taxes, and other customs fees at checkout, so there will be no surprise charges when parcels arrive at your border. We provide this option for all countries except: Russia, Ukraine, Macau, Venezuela, Azerbaijan, Turkey, Egypt, Armenia, Armenia, North Macedonia, Iceland, Greenland, and Kazakhstan.
The cost for shipping your order depends on your location, whether you want to prepay duties and taxes, the size of your order, and the service level you choose for shipping (Express vs. Standard). PedalCell provides a finalized quote for you at checkout before payment. See an example shipment to Australia below: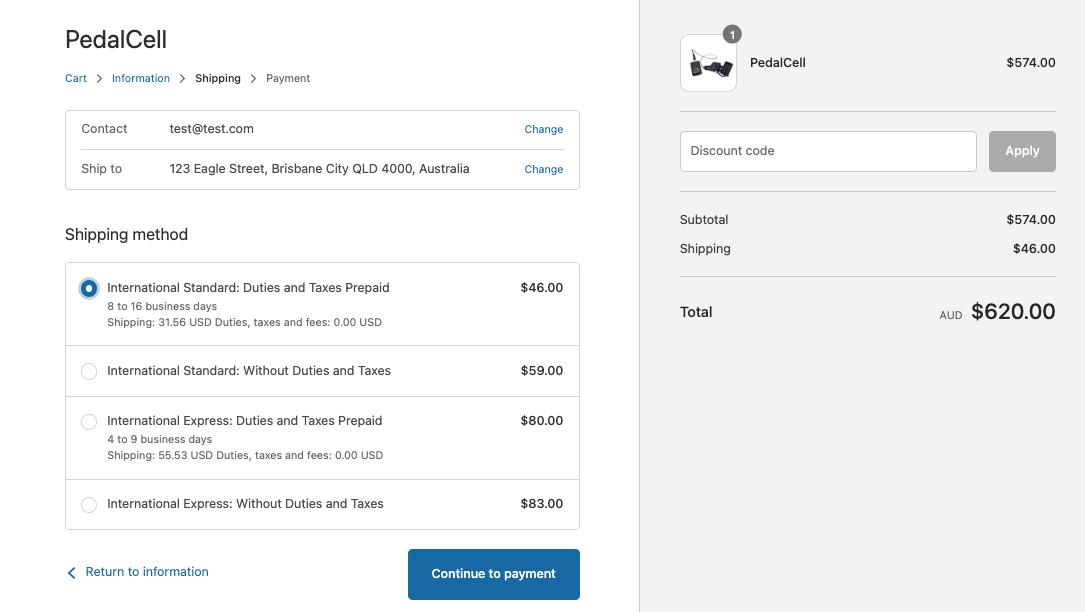 How long will it take for my order to arrive?
The delivery time varies depending on the route/destination. For prepaid duties and taxes, it takes between 2-5 business days for Express shipments to arrive and standard shipments usually take between 6-14 business days. Shipments without duties and taxes may take longer to arrive due to additional customs processing. Note, these time ranges do not include any delivery delays due to customs clearance, extreme weather, or COVID-19.
Why do I pay duties and taxes?
Import duty is a tax collected on imports and some exports by a country's customs authorities. A good's value will usually dictate the import duty, and the duties also can vary by product category. Depending on the context, import duty may also be known as a customs duty, tariff, or import tariff. The duties are mandatory. There are other factors besides the good's value that define the amount of duties to be paid, including trade agreements between countries as well as specific customs authorities.
In addition to duties, many governments levy a tax on imports. Like duties, import taxes are usually a percentage of the good's value. Also, some countries charge multiple taxes on the same good imported. PedalCell provides the option to prepay these fees at checkout.
How do I pay duties/taxes?
You can pay duties and taxes at checkout when you place your order. This way you not only see the total cost upfront before placing the order, but you also won't have to pay again when the parcel is delivered to you. If you opt to not pay for duties and taxes upfront, you'll be responsible for communicating with your customs office when PedalCell reaches your border to clear the package.
How can I track my order?
PedalCell provides you a tracking number and link when we your order is being fulfilled which typically happens within 24 hours after you place your order. For orders placed over the weekend or during holidays it may take a bit longer. You can track the status of your order through this tracking number and link where updates are posted as your parcel is in transit and ultimately delivered to you.
What if my order becomes stuck in customs?
First, we want to let you know that most shipments make it through customs without any delays. That said, from time-to-time customs authorities review a shipment and may ask for additional information before the customs authorities clear the shipment for final delivery.
Our full shipping policy can be viewed here.